Food - English Game - ESL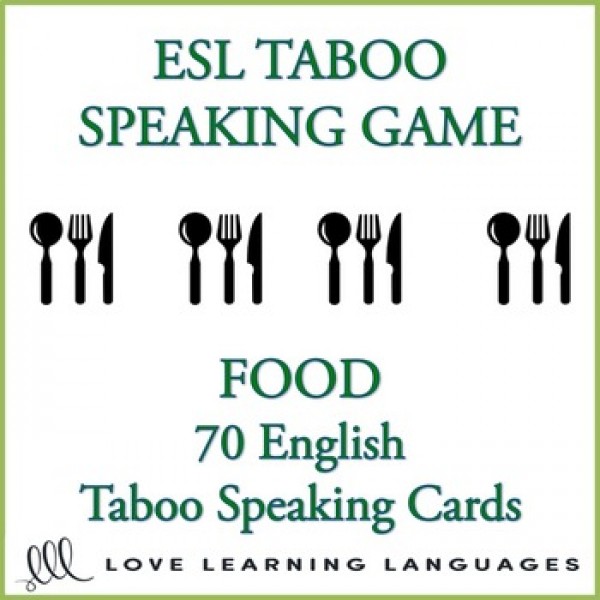 Food - English Taboo Speaking Game - ESL - Great for ESL and any English speaking classroom

Playing TABOO is a great way to get students to speak English and learn a lot of new FOOD vocabulary. This game is simple to modify and use with beginners and advanced students alike.
70 game cards are included There are 2 fun ways to play this fun vocabulary game and both are explained in the instructions. This game is great fun, suitable for any English speaking classroom when you want to get your students to talk to each other using descriptive words.
This food themed taboo speaking game includes the following:

- How to play classic Taboo (beginner and advanced levels)
- 70 Taboo game cards to print, laminate, cut out and hook together with a ring
- Color and black and white copies of the 32 cards are provided
- PDF with one card per page for projecting an all class activity with no printing
- How to play 15 MINUTES MAX - an alternative version of the game
- 15 MINUTES MAX game board
*In the upper left corner there's a spot for you to punch holes in the cards so that you can then attach them with a ring for no prep use every time. Be sure to laminate if at all possible!

Object of the game:
One player tries to get his teammate to guess the word at the top of a card. The player must give clues, but he can't use any of the Taboo words in his description. The taboo words are written beneath the word at the top of the card. Teams score points for each word successfully guessed. The team with the most points at the end of the game wins.

Beginner students should be allowed to use the TABOO words printed on the cards. This will encourage them to use new vocabulary and will help them in forming sentences to use as clues.
✯Sign up for my LLL's teacher newsletter and receive free gifts from my store weekly!✯
✯Join LLL on Facebook✯
✯Follow me on Pinterest✯
LICENSING TERMS: This purchase includes a license for one teacher only for personal use in their classroom. Licenses are non-transferable, meaning they can not be passed from one teacher to another. No part of this resource is to be shared with colleagues or used by an entire grade level, school, or district without purchasing the proper number of licenses.
COPYRIGHT TERMS: This resource may not be uploaded to the internet in any form, including classroom/personal websites or network drives, unless the site is password protected and can only be accessed by students.
Type de ressource: Activité générale, Activité culturelle, Imprimable, Autre évaluation, Activité amusante, Jeu

Nombre de pages (diapositives) : 70 carte

Pour avoir un accès immédiat au produit, ouvrez une session et achetez le produit.

FoodEnglishTabooSpeakingGameESLELL.zip
(21.5 Mo)